Stormdrain Marking Event
Join us and City of Holly Springs in a Earth day stormdrain marking event in Harmony on the Lakes.

When:   July 22, 2022
Where: Clubhouse in Harmony on the Lakes
               297 Harmony Lake Dr.
               Canton, GA 30115
Time:     10:00am – 12:00pm
We will be marking drains around the neighborhood.
Wear your older clothes and shoes because we will be cleaning and painting stormdrain covers.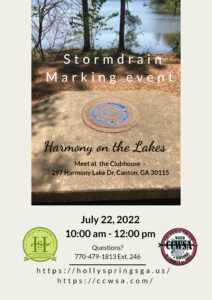 Thank you to everyone who came out to participate in the storm drain marking event on April 29th. We marked an additional 45 storm drains. Join us for our next event.