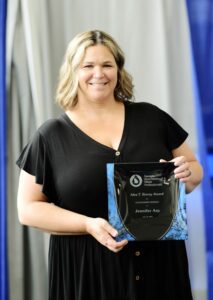 Jennifer Arp receives the GAWP Alva T. Storey Award
Jennifer Arp, Environmental Affairs' Assistant Manager, received the Georgia Association of Water Professionals (GAWP) Alva T. Storey Award at the Annual conference in Savannah in July 2022. The award was named after Alva T. Storey who served multiple important roles for GAWP starting in 1941.
The purpose of this award is to recognize a person for years of service and outstanding service related to activities in support the association. GAWP recognized Jennifer for her level of service above and beyond the call of duty, which exemplifies the essence of GAWP success. Jennifer serves as the chair of the Water Loss Control committee and is the secretary of the Women Making Waves committee.